Thanks to all who attended the launch of our "Back to Basics" Lunch & Learn Disability Advocacy Webinar Series in January. During this webinar, we talked about the shift from institutional to community-based living options for those with developmental disabilities in our state and nationally. A special thanks to our speakers, Lisa Poteat, Deputy Director of The Arc of NC, and Ann Rodriguez, Executive Director of i2i Center for Integrative Health, for sharing their experiences with us.  
This monthly newsletter will feature what Meet The Need NC is up to and how you can join our efforts to meet the needs of North Carolinians with I/DD and their families.
February 21: Building Relationships with Legislators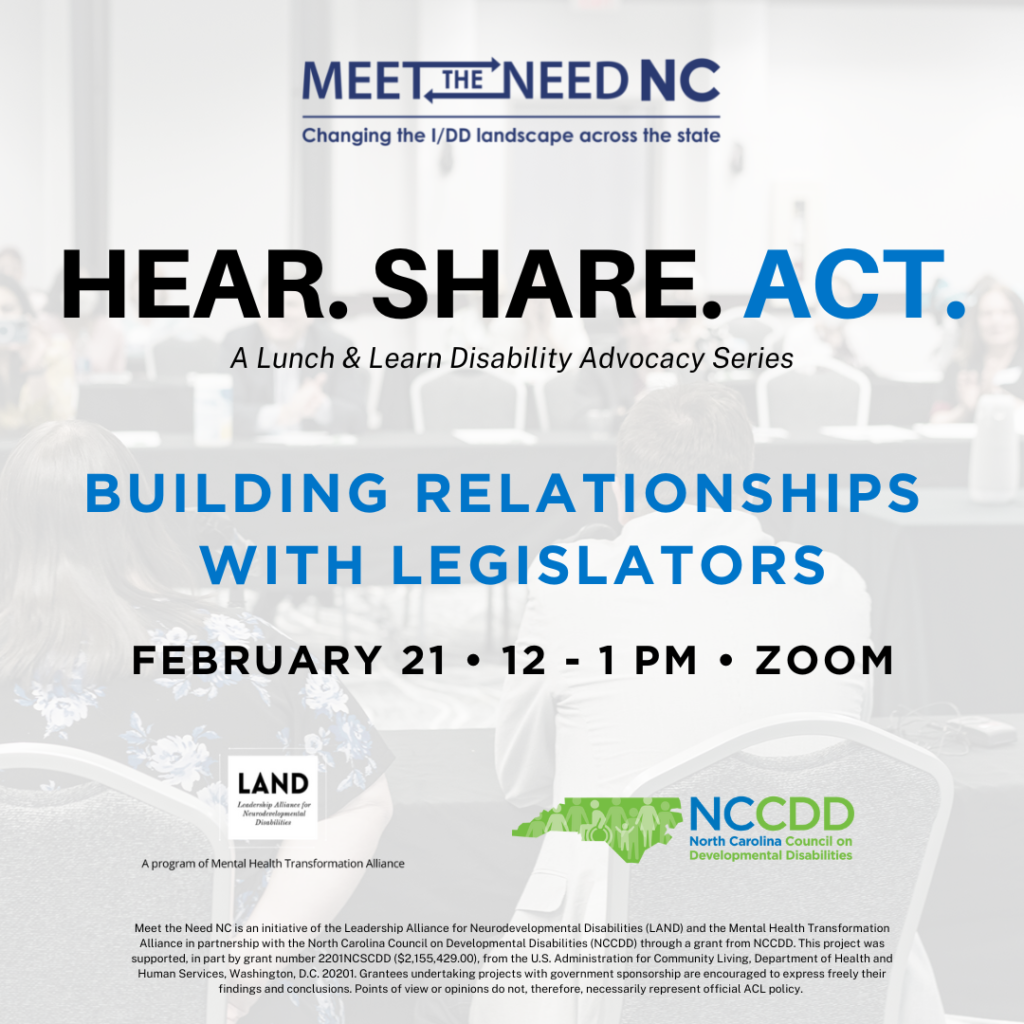 We are meeting on the third Tuesday of every month at noon with new topics brought to you by thought leaders in the I/DD community.
Throughout our series, we intend to create a basic understanding of the unmet needs of those living with I/DD in North Carolina.  You can register for one of our lunch and learns on Hear. Share. Act: A Lunch & Learn Disability Advocacy Series Tickets, Multiple Dates | Eventbrite.
Our next one is on Tuesday, February 21, 2023, at noon. 
Speakers: 
Representative Sarah Crawford, NC State House of Representatives

 

Lisa Grafstein, Disability Rights NC

 

Donna Beckmann, NC Down Syndrome Alliance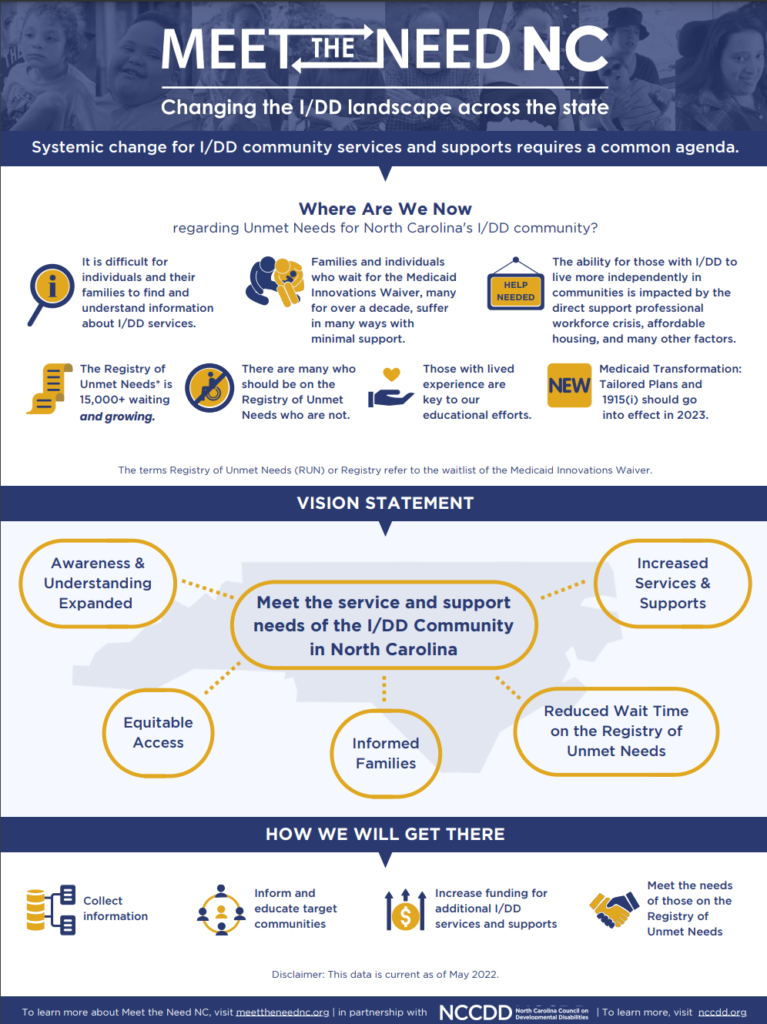 We are a grassroots movement pulling together organizations, programs, individuals, and families to meet the service and support needs of our state's I/DD community. Our four-year collective impact grant is funded by the North Carolina Council for Developmental Disabilities (NCCDD).
Our Lunch & Learn series is forging an I/DD Community Engagement Network for dialogue among individuals with unique developmental disabilities, levels of need, age, race/ethnicity, and geographic location; government agencies; provider agencies; and community-based organizations.  
Our initiative, Meet the Need NC, is about understanding.
We have a greater chance to be heard and make a change when we do this together

. We are focused on expanding the service pie, not splitting it.

 

I/DD issues are individualized

– Whether health or individual or family needs, we must respect and understand that one size does not fit all.

 

People with authentic lived experiences should be at every table

where decisions are made about them.

 

This is an essential moment in time for a change

. 

 
Resources for Our Community
Knowledge is power! The list of extensive resources are aimed to help keep our families and individuals with I/DD stay in the know. Check them out below.
Meet the Need NC's efforts are built around policy education and information. Our Policy Committee focuses on the issues impacting North Carolinians with I/DD and their families; and how the state legislature and federal-level decisions impact their everyday life.  
Below are recent updates and resources:
January Policy Updates (Lunch & Learn) – PDF

Medicaid Expansion

 – 

The week of February 13

th

, the NC General Assembly's House of Representatives voted on and passed its version of a Medicaid Expansion bill, HB76.  

Before voting on the bill, the House Members added three amendments. 

The Senate will consider the bill which may further amend it

before voting

.  

You can read the entire bill 

here

 and the General Assembly's bill summary 

here

. 

NC Managed Care Tailored Plan

s

 – 

As of February 17

, 

2023,

 NC DHHS and the LME/MCOs still plan to launch Tailored Plans on 

time on 

April 1, 2023

.  

On February 16

th

, the Division of Health Benefits (State Medicaid agency) hel

d an 

update

 Webinar for providers and consumers

.  

You can listen to the Webinar recording 

and 

read the Webinar slides 

by downloading the files linked here:

 February 16, 

2023

 | 

Tailored Plan 101: Ready, Set, Launch Series: 

Recording

 and 

Slides

Tailored Care Management

 – 

Tailored Care Management went live on December 1, 2022

.  

You can view a list of 

all of

 the DHHS (NCQA)-Certified Care Management Agencies to date 

here

. 

And here is a map of the distribution of Care Management Agencies 

(orange) and Advanced Medical Home + agencies (blue) 

across the State:

 
1915(

i

) Option

–

The Division of Health Benefits plans to begin the 1915(I) services on April 1,

2023

wh

en the Tailored Plans go live

. 

However, the Division does not yet have federal approval of the 1915(I) Option from the Centers for Medicare and Medicaid Services (CMS). 

 

Samantha R

.

Order Ruling
ACT: Sign Up or Check Up!
How to Sign Up for the Innovations Waiver or Check Up on Your RUN (Registry of Unmet Needs or waitlist) Status 
Sign Up – if you or a family member have an IDD, contact your Local Management Entity-Manage Care Organization (LME-MCO) and request the NC Innovations Waiver. If you are found to be eligible, you will be put on the RUN (Registry of Unmet Needs or waitlist). Ask about the availability of alternative services while you wait. 
Use the interactive map or list to find your LME-MCO organization by clicking on the LME/MCO Directory. 
Sign Up – if you or a family member have a diagnosed or undiagnosed I/DD and you do not have Medicaid for income or disability, contact Medicaid to make an application. How to Apply for NC Medicaid | NC Medicaid (ncdhhs.gov) 
Check Up – if you or a family member are already on the RUN, contact your LME/MCO and verify or update your personal information. While on the RUN, ask about alternative services while you wait. Also, confirm your Primary Care Provider (PHP); ask if you are part of the new Tailored Care Management Plan or Medicaid Direct; ask who your care manager is? 
Check Up – if you or a family member have a Waiver slot, contact your LME/MCO and ask about the transition to the Tailored Plan. Is your primary care provider contracted for the Tailored Plan? Have you identified another case manager?  
Donna Beckmann, Advocacy and Outreach Director
North Carolina Down Syndrome Alliance 
Stay in touch with Meet the Need NC!
Funded by the North Carolina Council on Developmental Disabilities, Meet the Need NC is a project of the Leadership Alliance for Neurodevelopmental Disabilities (LAND) program of Mental Health Transformation Alliance (MHTA). For year 1 of the initiative, a 30+ person Advisory Council was established, bringing together agency leaders, family advocates, individuals with I/DD, research teams, and community organizations to establish a common agenda for the four-year grant. The unified focus of Meet the Need NC is to impact systemic change for meeting the service and support needs of the I/DD Community in North Carolina. https://meettheneednc.org 
This project was supported, in part by grant number 2201NCSCDD ($2,155,429.00), from the U.S. Administration for Community Living, Department of Health and Human Services, Washington, D.C. 20201. Grantees undertaking projects with government sponsorship are encouraged to express freely their findings and conclusions. Points of view or opinions do not, therefore, necessarily represent official ACL policy.